TROPICAL AREPA de QUESO 16 oz (x12)/ Corn and Cheese Griddle Cake - SHIPPING INCLUDED / ENVIOS INCLUIDO (For usa Only) / 3 a 5 Dias Envio (Usa)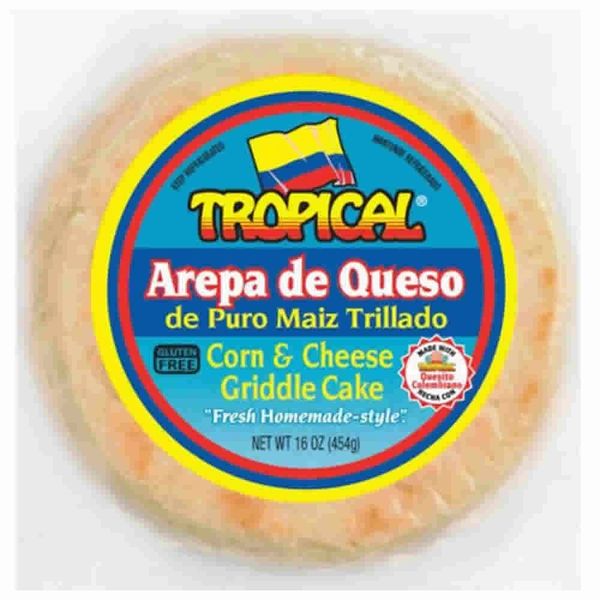 TROPICAL AREPA de QUESO 16 oz (x12)/ Corn and Cheese Griddle Cake - SHIPPING INCLUDED / ENVIOS INCLUIDO (For usa Only) / 3 a 5 Dias Envio (Usa)
Shipped Monday and Tuesday Only / Buy more, save more  

5 Arepas per bag x 12 (Total 60) They are ready to eat; simply grill them, bake them, or fry them. Arepas are perfect for breakfast and as a snack. Add your favorite topping or have as a complement to any dish.  The Tropical Cheese Arepa de Queso is made of pure corn grits mixed with Tropical Quesito Casero Colombiano. This is a gluten free food.

VACUUM SEALED AND PACKAGED IN THERMAL BAGS WITH "NON-TOXIC REFRIGERANT " TO PROTECT  FRESHNESS 
*2nd Day Shipping : RECOMMENDED

Enviado lunes a martes solamente / Compre más, ahorre más 

5 Arepas por bolsa x 12 (Total 60 ) Están listos para comer; simplemente ase a la parrilla, hornee o fríalas. Las arepas son perfectas para el desayuno y como merienda. Agrega tu topping favorito o tómalo como complemento a cualquier plato. La Arepa de Queso de Queso Tropical está hecha de sémola de maíz pura mezclada con Tropical Quesito Casero Colombiano. Este es un alimento sin gluten.

SELLADOS AL VACÍO Y EMPACADOS EN BOLSAS TÉRMICAS CON " REFRIGERANTE NO TOXICO" PARA PROTEGER SU FRESCURA 
Reviews