TROPICAL AREPA AMARILLA 8 oz (x13) / YELLOW CORN GRIDDLE CAKE - SHIPPING INCLUDED / ENVIOS INCLUIDO (For usa Only)g / 3 a 5 Dias Envio (Usa)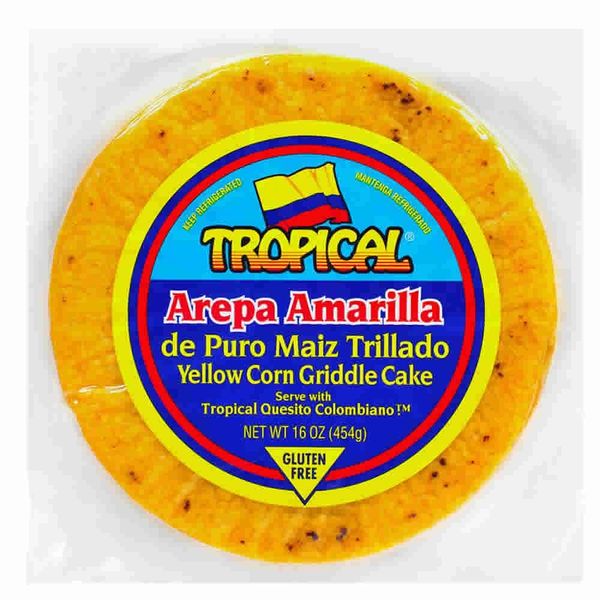 TROPICAL AREPA AMARILLA 8 oz (x13) / YELLOW CORN GRIDDLE CAKE - SHIPPING INCLUDED / ENVIOS INCLUIDO (For usa Only)g / 3 a 5 Dias Envio (Usa)
Shipped Monday and Tuesday Only / Buy more, save more  

5 Arepas per bag x 13 (Total 65).  They are ready to eat; simply grill them, bake them, or fry them. Arepas are perfect for breakfast and as a snack. Add your favorite topping or have as a complement to any dish.  The Tropical Cheese Arepa Amarilla is made of 100% yellow corn grits. It is fat free, cholesterol free. This is a gluten free food. 

VACUUM SEALED AND PACKAGED IN THERMAL BAGS WITH "NON-TOXIC GEL-TYPE REFRIGERANTS" TO PROTECT  FRESHNESS

*
2nd Day Shipping 
: RECOMMENDED
Enviado lunes a martes solamente / Compre más, ahorre más 

5 Arepas por bolsa x 13 (Total 65 ) . Listas para comer; simplemente asarlas, hornearlas o freírlas. Las arepas son perfectas para el desayuno y la merienda. Agregue su cobertura favorita o tenga como complemento a cualquier plato. La Arepa Tropical Amarilla está hecha de 100% sémola de maíz amarillo. No tiene grasa ni colesterol. Este es un alimento sin gluten. 
SELLADOS AL VACÍO Y EMPACADOS EN BOLSAS TÉRMICAS CON " REFRIGERANTES TIPO GELL NO TOXICO" PARA PROTEGER SU FRESCURA 
 *2 Dias Envio : RECOMENDADO
Reviews