Queso de Freir / White Cheese for Frying (usa only)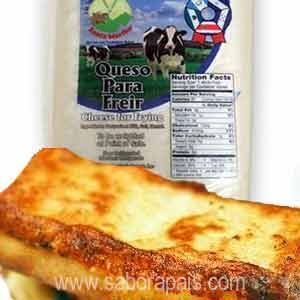 Queso de Freir / White Cheese for Frying (usa only)
Shipped Monday and Tuesday Only 

Queso de Freir / White Cheese for Frying  (Imported) is a firm and mild cheese commonly used for frying. It has long been an indispensable in Nicaragua, Honduras, Central America and the Caribbean where it is appreciated for its high melting point and unique mild flavor. This Queso Para Freir can withstand high temperatures and still hold its shape without melting. Frying or pan-searing will soften the cheese and result in a golden brown crust with a creamy, un-melted interior. 

VACUUM SEALED AND PACKAGED IN THERMAL BAGS WITH "NON-TOXIC REFRIGERANT GEL" TO PROTECT  FRESHNESS
*2nd Day Shipping : RECOMMENDED

Enviado lunes y martes solamente

Queso de Freir / Queso Para Freir (Importado) es un queso suave y firme, muy apreciado en Nicaragua, Honduras y toda Centroamerica y el Caribe donde se come frito pues tiene un alto punto de fusión y sabor único. Al Freírse se ablandará el queso y tomara por fuera un agradable color marrón dorado, pero firme y cremoso en su interior.
Reviews