Palacios Authentic Spanish Chorizo 7.9oz (x4)- SHIPPING INCLUDED / ENVIO INCLUIDO (usa only)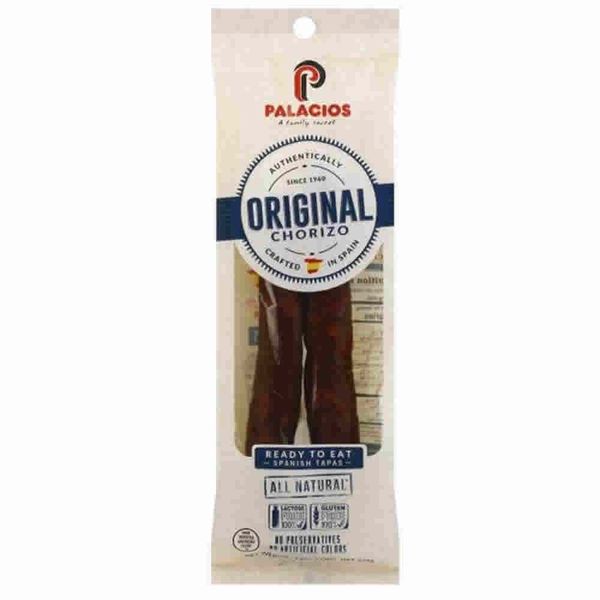 Palacios Authentic Spanish Chorizo 7.9oz (x4)- SHIPPING INCLUDED / ENVIO INCLUIDO (usa only)
4 Chorizo Autentico Palacios 7.9oz Ready to Eat. Made with pork meat of the finest quality. Delicious broiled, Bar-B-Q or fried. A most for COCIDOS. Spanish style chorizo by famous Quijote Brand. Made with the finest pork meats. Cured using the most strict artesanal craftsmanship and tradition of Spain. Delicious in paellas, stews. Great as appetizers or hot or cold "tapas", sandwiches, rice dishes, omelettes etc. No refrigeration needed until after opening. 
* For shipping outside USA please contact us at: info@saborapais.com or WhatsApp 786 380-8156

---

4 Chorizo Autentico Palacios 7.9oz Listo para comer. Elaborados con carnes selectas de cerdo. Curado y secado siguiendo la tradición artesanal de España. Delicioso listos para comer solos y también cocidos, asados o fritos. Nunca deben de faltar en una buena paella, cocido o cualquier tipo de platillo. Prepare apetitosos sandwiches, tapas sopas, arroces, tortillas etc. No necesita refrigeracion hasta despues de abierto.
* Para envíos fuera de USA por favor contáctenos: info@saborapais.com / WhatsApp 786 380-8156

Reviews