Maggi Sopas Caseras con Vegetales y Fideos y Fideos/ Home Style Vegetable Chicken and Pasta Soup (x12)- SHIPPING INCLUDE /ENVIO INCLUIDO (usa)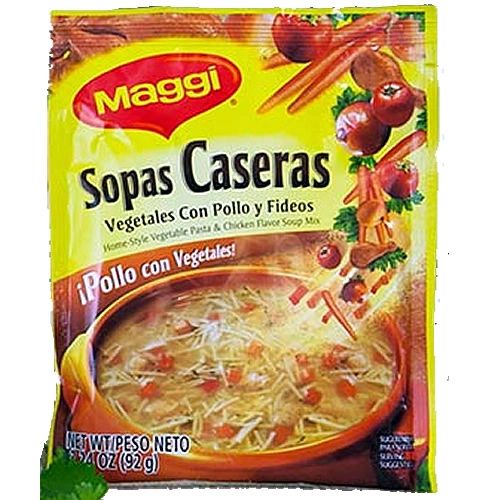 Maggi Sopas Caseras con Vegetales y Fideos y Fideos/ Home Style Vegetable Chicken and Pasta Soup (x12)- SHIPPING INCLUDE /ENVIO INCLUIDO (usa)
Maggi Home-Style Vegetable Pasta & Chicken
Flavored Soup Mix delivers delectable soup with authentic Latin flavor in less than 10 minutes. Use the chicken vegetable soup mix to make delicious soup for lunch or dinner.  Each 3.24 ounce package of Maggi soup mix contains about 4 servings. 

 * For shipping outside USA please contact us at: info@saborapais.com 

Maggi Home-Style Vegetable Pasta y Pollo ofrece una deliciosa sopa con auténtico sabor latino en menos de 10 minutos. Use la mezcla de sopa de pollo y verduras para preparar una deliciosa sopa para el almuerzo o la cena. Cada paquete de 3.24 onzas de mezcla de sopa Maggi contiene aproximadamente 4 porciones.

*Para envíos fuera de USA por favor contáctenos: info@saborapais.com 

Reviews