Jugos Natura's 11.16 oz (6) - SHIPPING INCLUDED / ENVIO INCLUIDO (usa only)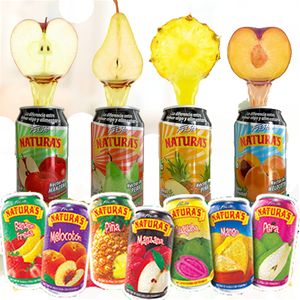 Jugos Natura's 11.16 oz (6) - SHIPPING INCLUDED / ENVIO INCLUIDO (usa only)
This item is shipped within the U.S only

11.16 oz Cans. The Natura's Juices (Nectars) are made from fresh fruit concentrated, purified water, sugar, enriched with vitamin C and natural fruit essences, to enhance its aroma
Prepared under strict production standards and pasteurization. Contains no artificial colors or colorants.
5 Flavors to choose: Apple, Pear, Peach, Pear, Strawberry and Mango.
---
Este artículo se envía dentro de EE. UU. Solamente

11.16 oz Latas. Los Jugos o Néctares Natura´s son elaborados a partir de concentrados de frutas frescas, agua purificada, azúcar, enriquecidos con vitamina C y esencias naturales de fruta, para realzar su aroma.
Preparados bajo estrictas normas de producción y pasteurización. No contiene persevantes ni colorantes artificiales
5 Sabores para escoger: Manzana, Pera, Durazno,Banano Fresa y Mango.
Reviews