Harmony Fruit Soap / assorted 6 Pcs -SHIPPING INCLUDED / ENVIO INCLUIDO (usa)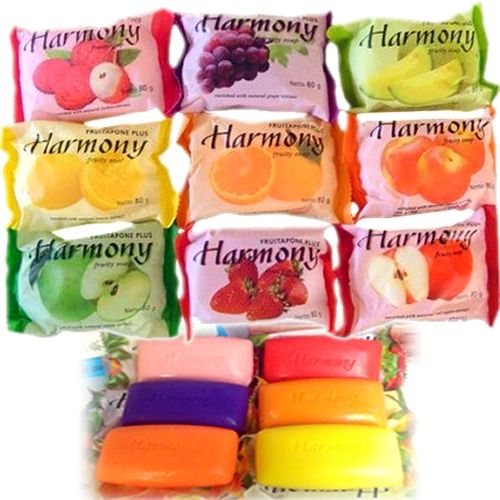 Harmony Fruit Soap / assorted 6 Pcs -SHIPPING INCLUDED / ENVIO INCLUIDO (usa)
Harmony Soap is derived from natural fruit extracts, which contain vitamins. The combination of fruit extract and bisabolol (bisabolol is also known as levomenol) has moisturizing and soothing effects.
Fruit extracts are rich in proteins, vitamins and these properties are preserved in this purely vegetarian soap. Frequent use of Harmony Bar Soap leaves the skin smoother and fresher.
orange, strawberry, apple, grape, lemon, peach, papaya, mango
---
El jabón Harmony (armonía) se elabora a base de extractos naturales de frutas que contienen vitaminas. La combinación de extracto de fruta y bisabolol (bisabolol también se conoce como levomenol) tiene efectos hidratantes y calmantes.
Los extractos de frutas son ricos en proteínas, vitaminas y estas propiedades se conservan en este jabón puramente vegetariano. El uso frecuente del jabón de la barra Harmony (armonía) deja la piel más lisa y más fresca.
Naranja, fresa, manzana, uva, limón, melocotón, papaya, mango
Reviews