Achiote Molido 8 oz -SHIPPING INCLUDED / ENVIO INCLUIDO (usa only)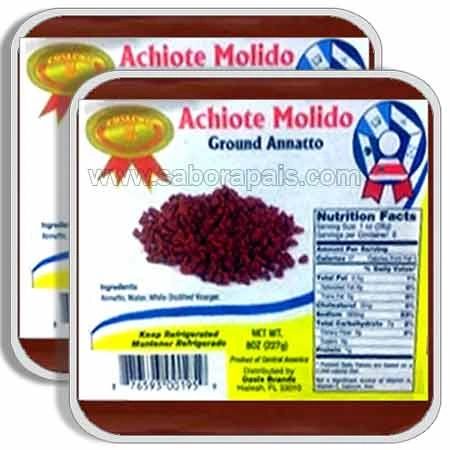 Achiote Molido 8 oz -SHIPPING INCLUDED / ENVIO INCLUIDO (usa only)
Acihote Molido - 8 oz  – Ground annatto seed. Achiote is popular Latin American spice. It goes by the name of annatto in English. Achiote or annatto is mainly used to give a golden orangish color to the food. Achiote is a must have for things like refrito or sofrito, as well as for many soups, stews, and rice dishes.

VACUUM SEALED AND PACKAGED IN THERMAL BAGS WITH "NON-TOXIC REFRIGERANT GEL TYPE" TO PROTECT  FRESHNESS 

---
Ground Annatto -  8 oz - Semilla de Annatto de molida. Achiote es un condimento muy popular en Latinoamérica. Conocido en inglés con el nombre de Annatto. Se utiliza principalmente para dar un color naranja dorado a la comida. Achiote es muy usado para hacer refrito o sofrito, así como para muchas sopas, guisos y arroz.
SELLADOS AL VACÍO Y EMPACADOS EN BOLSAS TÉRMICAS CON "GEL REFRIGERANTE NO TOXICO" PARA PROTEGER SU FRESCURA 

Reviews