Wuju Hot Sauce Variety Pack 5 oz - SHIPPING INCLUDED / ENVIOS INCLUIDO (usa)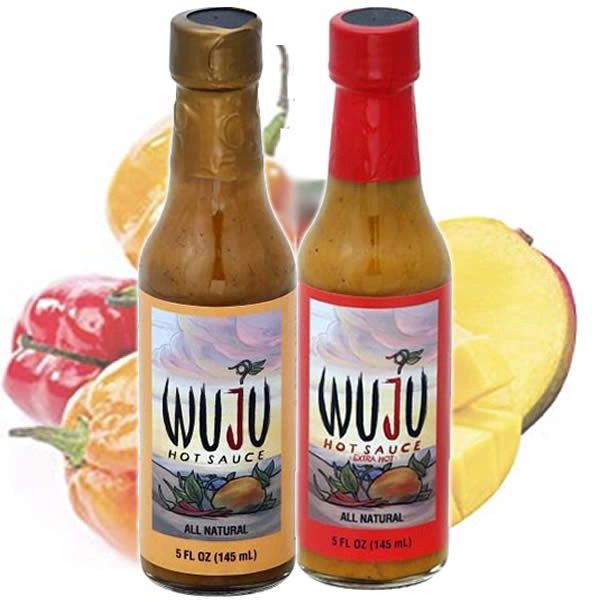 Wuju Hot Sauce Variety Pack 5 oz - SHIPPING INCLUDED / ENVIOS INCLUIDO (usa)
The Original WUJU Hot Sauce delivers the perfect blend of Sweet & Heat – incorporating wholesome, all-natural ingredients such as agave nectar, mango, curry, habanero peppers, & Thai-inspired spices.
The Extra Hot WUJU Sauce is hotter by adding even more habanero peppers.
WUJU pairs well with almost anything – even foods that traditional sauces don't work with. Its spicy enough that you can feel it, mild enough that you can still taste your food – so even people who might typically avoid hot sauces can still enjoy it!
Ingredients: Agave Nectar, Mango, Yellow Mustard (Vinegar, Water, #1 Mustard Seed, Salt, Turmeric, Spices), Water, Orange, Juice Concentrate, Brown Sugar, Habanero, Pepper, White Vinegar, Chili Powder, Curry Powder, Cumin, Salt, Black Pepper.
---
La salsa picante original WUJU ofrece la combinación perfecta de Sweet & Heat, que incorpora ingredientes saludables y totalmente naturales, como néctar de agave, mango, curry, pimientos habanero y especias de inspiración tailandesa.
La salsa WUJU Extra Hot es más picante al agregar aún más chiles habaneros.
WUJU combina bien con casi cualquier cosa, incluso los alimentos con los que las salsas tradicionales no funcionan. Es lo suficientemente picante como para que puedas sentirlo, lo suficientemente suave como para que aún puedas saborear tu comida, ¡por lo que incluso las personas que generalmente evitan las salsas picantes aún pueden disfrutarla!


Ingredientes: néctar de agave, mango, mostaza amarilla (vinagre, agua, semilla de mostaza n. ° 1, sal, cúrcuma, especias), agua, naranja, concentrado de jugo, azúcar moreno, habanero, pimienta, vinagre blanco, chile en polvo, curry en polvo, comino , Sal, Pimienta Negra.
Reviews