Pulpa pura de Granadilla / Pure Granadilla Pulp 14 oz (6 Pack) - SHIPPING INCLUDED / ENVIO INCLUIDO (usa only)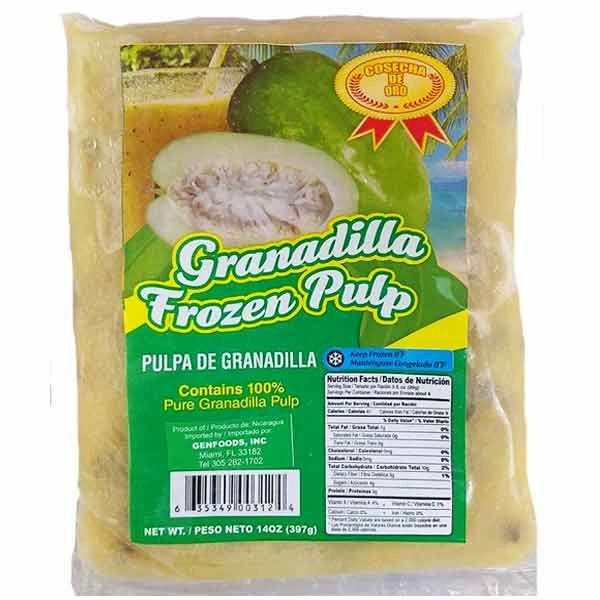 Pulpa pura de Granadilla / Pure Granadilla Pulp 14 oz (6 Pack) - SHIPPING INCLUDED / ENVIO INCLUIDO (usa only)
This item is shipped within the U.S only • Shipped Mondays and Tuesdays only

100% pure Granadilla fruit pulp with seeds, product from Nicaragua (Choose 6 or 12 pack)

*Please make arrangements to have someone retrieve the shipment as soon as possible on the day of arrival. This product must be unpacked and put in the freezer the same day they are delivered.

*We properly pack the products on Insulated Box Liners and gels pack to keep it cold during the shipping time it's not intent to arrive frozen, is expected to arrive cold.
---
Este artículo se envía  dentro de EE. UU. Solamente • Se envían lunes y martes solamente

Pulpa de Granadilla 100 % pura con semillas, produto Nicaraguense (Escoger 6 o 12 bolsas de 14 oz)

* Por favor asegure que alguien reciva este envío el día de llegada. Este producto debe desempacarse y colocarse en el congelador el mismo día en que se entregan.

*Nosotros Empacamos estos productos en bolsas térmicas y congelantes especiales "Gel packs" para mantenerlos fríos durante el tiempo de envío, no es la intención de que lleguen congelados, se espera que llegue fríos.
Reviews