Tropical Queso de Freír con Sabor 10 oz (x12) / Flavored Frying Cheese - SHIPPING INCLUDED / ENVIOS INCLUIDO (For usa Only)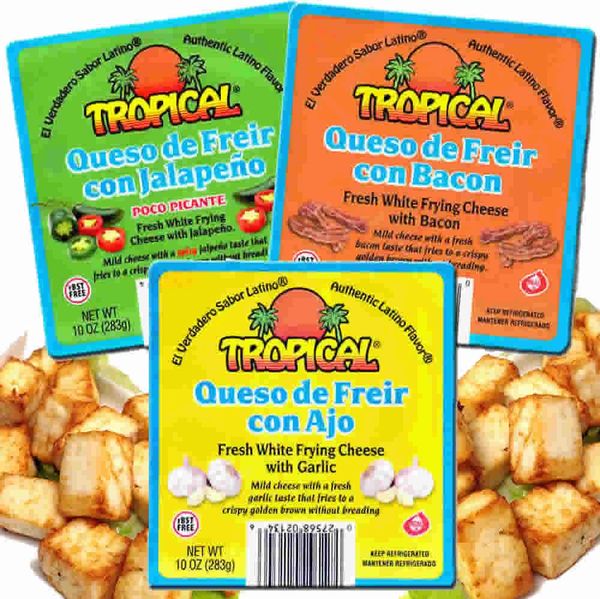 Tropical Queso de Freír con Sabor 10 oz (x12) / Flavored Frying Cheese - SHIPPING INCLUDED / ENVIOS INCLUIDO (For usa Only)
Shipped Monday and Tuesday Only 

Tropical Queso de Freír tiene la reputación de ser el queso para freír de mayor calidad y más consistente del país. El Queso de Freír tropical se fríe hasta obtener un dorado crujiente y dorado, ¡no es necesario empanar! Ideal para el desayuno con huevos y plátanos, también como refrigerio o como parte de cualquier comida. Nuestro Queso de Freír ahora está disponible en tres sabores diferentes: ajo, tocino y jalapeño.

  * VACUUM SEALED AND PACKAGED IN THERMAL BAGS WITH "NON-TOXIC REFRIGERANT "ICE GEL PACK" TO PROTECT  FRESHNESS 
 *2nd Day Shipping Included

---
Tropical Queso de Freír has the reputation of being the highest quality and most consistent frying cheese in the country. Tropical Queso de Freír fries to a crispy, golden brown – no breading is necessary! Ideal for breakfast with eggs and plantains, also as a snack or part of any meal. Our Queso de Freír is now available in three different flavors: Garlic, Bacon and Jalapeño. 
Este producto es  
enviado Lunes a Martes Solamente
*
SELLADOS AL VACÍO Y EMPACADOS EN BOLSAS TÉRMICAS CON "ICE GEL PACK" REFRIGERANTE NO TOXICO PARA PROTEGER SU FRESCURA 
*
2 Dias Envio Incluido
Reviews